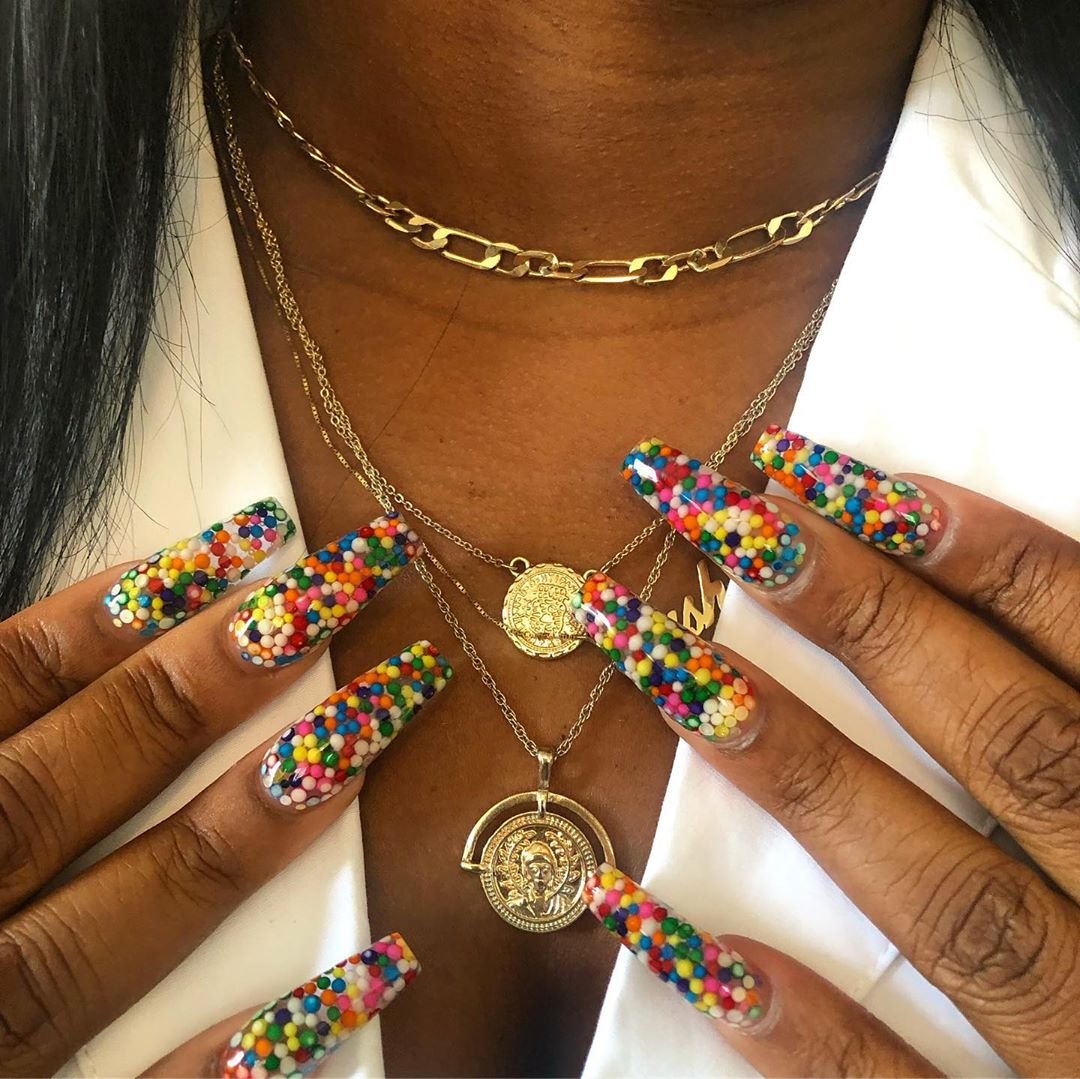 2021 NailTrends That You Should Try
We love a classic manicure, a cute nail set to match your outfit but this year the nail techs have taken nail art to a whole new level. Whether you're a short nail queen, long claws, or natural nails only, the nail community has taken nail arts beyond and I am here from it!!! So here are 10 inspirations for your next appointment or to try yourself!
THE ARTSY FRENCHIES
These might just be my favorites, it takes your classic French tips and just adds all these cool different designs instead. Some of the popular ones have been clouds, smileys, or cow prints! These sets are so fun, cool, and colorful! I am here for all of it!
THE SWIRLS
These are so cute!! These abstract swirls are so beautiful, you can really let your inner self shine through these nails. Whether you prefer a single color swirl or multiple colors, this artsy trend is perfect! This abstract design is taking the nail community by a storm and I absolutely love it.
POLKA DOTS
Who doesn't love polka dots?!!  I am genuinely obsessed with them, such fun summer nails!! Playful and well just hella cool! They might be time-consuming but honestly so worth it!
MARBLES
Marbles have been here for some time now but I feel like marbles are taking over the gram!! The marble sets are so pretty and trendy! I love how they look and their uniqueness. You can do color marbles or simple nude marbles. The options are limitless. 
GRIDS & CHECKERS
The boxes have made their way to nail art and I am here for it! Spice it up with different colors and just have fun with the design!!
3D FLOWERS
I believe these flowers are made with acrylic and they're honestly the cutest thing. I think they pair well with a sample set of Frenchies and glitter!! So girly and soo cute!
THE PASTELS
The pastels!! I personally have an obsession with pastel colors and they're legit perfect for summer and so much fun! You can go with one uniform color or multiple colors, either way, it's still a vibe!
MODERN ART
Going to museums this summer? Well get you an artsy set with trendy art, you can use contrast colors or muted tones! These sets are so gorgeous and definitely a conversation starter. 
GEO ART
Get creative with sharp lines, shapes, and patterns! Again you can go so many ways with this, whether it's color or neutral tones! It will never be a dull moment with these nails.
PRINTS PRINTS PRINTS
I think I saved the best for last!! Cow prints have been making their round and it has now reached the nails! Of course, you can always go with the classic cheetah prints or leopards but give cow prints a chance.
Get creative and have fun with your nail sets this summer!