There are so many factors that go into your skin's composition including our genetics, age, skin condition, diet, and environment. And while we can only control so many of these factors, there are still plenty of steps you can take to clear and brighten your skin!Every person, regardless of skin type or concern, needs to keep these 5 key areas in mind when keeping skin healthy: cleanliness, moisturization/hydration, toning, and protection from environmental factors.
1. Cleanliness
 Cleanliness is important in washing away the effects of the day and allowing the subsequent products to penetrate the skin better. It's important to find a cleanser that doesn't strip the skin of its natural oils but still effectively cleanses the skin.
I love using the Fresh Soy Cleanser, which works well on all skin types. It's a gel-based cleanser that is gentle on the skin but still thoroughly cleanses. I've heard great things about The Ordinary Squalane Cleanser, especially for dry and/or mature skin. The CeraVe Renewing SA Cleanser is a great drugstore option for all skin types and even contains some salicylic acid for light exfoliation.
However, while having the face itself clean is very important, it's also important to consider the cleanliness of the hands when applying the products to the face. Washing your hands with soap before starting your skin care routine is essential in minimizing exposure to germs to the face. Also, be sure to wash your pillowcase at least every two weeks!
Having clean skin keeps dirt, sweat, and other undesirables from clogging the pores, so it's important to make this a priority! Without a well-cleansed base, your skin won't be able to absorb the effect of the treatments.
2. Toning
Toning is important in maintaining a healthy pH balance on the skin. When your pH level is off, it makes for a nice environment for acne to develop. It also helps remove any stubborn dirt after cleansing. Toner also helps prep the skin for upcoming treatments.
I like to use the AmorePacific Treatment Toner to tone day and night. I especially like it because the first ingredient is Ginseng Root extract, which helps subdue any redness in the skin. A popular one is the Pixi Glow Tonic which also exfoliates the skin. Recently, however, I've gotten very into moisturizing toners, notably the Paula's Choice Enriched Calming Toner, which provides a great dose of soothing hydration and noticeably softens the skin. The Laneige Cream Skin Toner & Moisturizer both tones the skin and provides the skin with an extra dosage of moisture.
3. Exfoliation
Exfoliation refers to the process of removing dead skin cells from the surface of your skin. This helps brighten the skin, prevent acne, and, like with cleansing, helps your products penetrate the skin more deeply. Your skin creates new skin cells everyday, but the old skin cells will remain on the surface of the skin unless manually removed. You can achieve this either via physical / mechanical exfoliation using scrubs or chemical exfoliation using acids. Many estheticians recommend using chemical exfoliation for the face in order to avoid micro-abrasions, which can lead to acne and redness.
Use of concentrated exfoliants should be limited to once or twice a week to maintain a health moisture barrier. I recently purchased the Peter Thomas Roth Pumpkin Enzyme Mask, which uses pumpkin enzymes and AHAs to resurface the skin and dramatically reduce texture. I've also heard great things about the KORA Organics Turmeric 2-in-1 Brightening & Exfoliating Mask, which uses papain extract (papaya) and salicylic acid to provide skin with a smooth finish. The Pixi Glow Tonic serves as both a toner and exfoliant with glycolic acid but again is best when used.
There are some exfoliants that are safe enough for daily use. I have been using the AmorePacific Treatment Enzyme Peel Cleansing Powder to exfoliate– just add water, and the powder becomes a soft lather. It uses gentle papain extract that lightly exfoliates and leaves the skin incredibly soft and bright. The Tatcha Rice Polish Foaming Enzyme Powder works similarly using rice powder and also leaves the skin noticeably brighten and clearer. Both are chemical exfoliants, but the latter has some grit from the rosehip seeds. The CeraVe Renewing SA Cleanser also uses salicylic acid to gently exfoliate. Although they are safe for daily use, I often use my AmorePacific cleansing powder every two days since I have very dry skin.
4. Moisturization & Hydration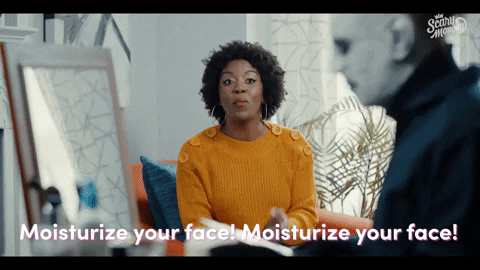 Yes, this is technically two things, but they work together to protect one thing: your moisture barrier! Maintaining your moisture barrier is very important in keeping your skin soft, preventing acne, and inhibiting signs of aging. Even for those with oily skin, moisturization is important in keeping your skin from overproducing oils and therefore plays a huge role in keeping acne at bay. Moisturization is especially important in the colder months in offsetting the effects of windburn and chilly temperatures, which can both leave the skin parched.
Even before I understood the importance of healthy skin, my mom always made sure I'd put on my Olay Active Hydrating Original Beauty Fluid Lotion before leaving for school and going to bed. I still use this today to moisturize my skin because it's very light-weight and effective. It works well on my dry skin, but it is suitable for all skin types. The Belif True Cream Aqua Bomb is another lightweight moisturizer but is specially made with oily/combination skin in mind. It is more of a gel consistency that is quickly absorbed into the skin. Belif also has the True Cream Moisturizing Bomb made for those with dry skin with a slightly thicker consistency and provides hydration for up to 26 hours. Both are made with natural ingredients and are free of fragrance. I also love using Farmacy Honey Potion Renewing Antioxidant Hydration Mask which also works to moisturize and hydrate the skin. I use this mask 2-3 times a week, and it leaves the skin incredibly nourished and radiant for days. It's definitely one of my favorite products!
Similarly, skin needs to stay hydrated. But while moisturization refers to retaining water via occlusives, hydration refers to drawing water from the air into the skin via humectants. This helps reduce the appearance of fine lines, control oil, and brighten the skin. In either case, water is a key aspect in skincare.
Plenty of moisturizers also have hydrating properties, but there are also a number of other treatments that directly promote hydration. I use the KORA Organics Noni Glow Sleeping Mask every night. I apply the product as the last step in my night routine, and it only takes a few minutes for it dry down. The next morning, I wake up to bouncy, dewy skin. The Laneige Water Sleeping Mask is another fan favorite more suited for oily types that also gives skin a beautiful glow. In addition to sleeping masks, twice a day, The Ordinary 100% Plant-Derived Squalane provides the skin with a naturally forming hydrator (squalane is a stable form of squalane more suited for shelved products). The Inkey List Hyaluronic Acid Hydrating Serum is another great alternative for lightweight but effective hydration and has been my go-to product lately!
Pro Tip: when applying any of your products, make sure that your skin is at least damp or slightly wet before applying each new product but NEVER completely dry. You can splash water in between steps or invest in hydrating mists (I love the Hydrating Rose Mist & Glow Mist from Didara as well as the Pixi Glow Mist). This lets you use less product, helps the products get more deeply absorbed, and works to retain water in the skin, even if the products themselves aren't hydration-focused.
Moisturization and hydration are two of the most fundamental needs in maintaining healthy skin. They definitely need to be emphasized in the colder seasons to keep your skin from getting parched and aging more quickly.
5. Environmental Protection
It's important to protect your skin from free radicals sourced from UV rays (sunlight) and air pollution. Yes, this DOES mean that you need to wear sunscreen in the winter because UV rays are there even when sunlight is limited on a given day. Free radicals are an especially big concern for those in big cities, where fumes from cars and trucks are most concentrated. These can accelerate aging & hyperpigmentation in the skin and can also break down the products on your face.
To be effective, sunscreen has to be at least 30 SPF. To maintain the protection throughout the day, you should apply 20 minutes before leaving the house and every 2 hours afterwards. I use the Neutrogena Beach Defense Water + Sun Protection Sunscreen Spray because it's quick to apply and even adds a bit of a glow to the skin. They even have a quiz  on Neutrogena's website to help choose which sunscreen works best for you and your lifestyle. Supergoop is another brand with a variety of options. It has a sunscreen setting spray, setting powder, and a variety of lotions. Supergoop's products are also known for seamlessly blending into any skin tone. Black Girl Sunscreen is another great translucent sunscreen, which you can read about more here.
Antioxidant-rich products also help protect against the effects of free radicals we encounter in our everyday lives. The Farmacy Honey Potion not only provides deep hydration but also a shot of antioxidants to the skin, leaving your skin soft & nourished but also rid of free radicals. Paula's Choice offers various products with the antioxidants you need to defend your skin. The Power Berry Serum and Antioxidant Pore Purifier are both favorites from the brand, offering protection from free radicals and a boost of hydration.
Protecting the skin from environmental factors is the most active part of skin care but also one of the most important. I find that my skincare routine is most effective when I remember to reapply sunscreen during the day and regularly use my antioxidant mask, so it's definitely worth it!
With so many recommendations and products out there, it can be difficult to figure out what you actually need. Whether you're just now getting into skincare or you consider yourself a pro, it's always best to stick to the basics! If you've tried any of these products or had any suggestions yourselves, let us know in the comments. And remember: skincare is a long game. The most important part of your skincare routine is consistent day-and-night use!
skincare