Though summer is a bit different this year, there are still so many ways to make the most of it. One way is a socially distanced trip to the beach (if your state is having that). Another is strutting around the living room in some new swimwear. It's giving me Jamaica or Mexico! Rock some of the following black-owned pieces now or when we're able to travel again.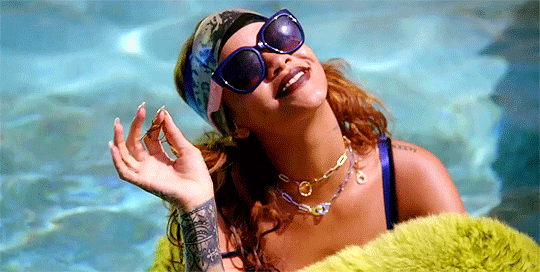 You may have watched her makeup routines or wig tutorials, but Aaliyah Jay recently released her own line of swimwear or 'resort wear' as she coined it. And, it's super affordable — love to see it!
Based in New York, Twisted Saints caters to women of many body shapes, allowing every woman to feel confident, luxurious, and sexy. Ultimately, their main goal is to have you feeling like your best self without having to break the bank.
We're loving our skin and feeling like a boss this summer despite quarantine. With Trish Atelier, you can flaunt it all. Whether it's in a string two-piece, a high-cut one-piece or bright colors, you'll find your style.
As the founder states, the pieces are 'love letters' to women, encouraging us to stand in our truth fearlessly. "As an advocate for self-love, I have created pieces that will encourage you to highlight all the things you once wanted to cover," Trish Pogue says.
Trish Atelier is rooted in self-love and is the definition of bringing your sexy to the forefront unapologetically. In these pieces, you'll feel comfortable in your own skin with no conditions.
NY-based luxury and sustainable swimwear line, Avid Swim is changing the eco-friendly fashion game. To create sustainable swimsuits, Avid Swim works with manufacturers who use environmental-friendly fabrics and low-impact dyes. This helps the company minimize its carbon footprint. Founded in 2010 by NYFW alum Gionna Nicole, Avid Swim has been taking sustainable fashion to the next level for a decade!
There's even a sale going on, so go check it out!
This one is for the bold and expressive ladies! Nakimuli is a brand that caters to many different shapes. Wearing swimwear from Nakimuli allows you to make a bold statement and experiment with your personal, expressive style. With loud and bright colors and textures, most of the pieces inspire women to run wild with their imagination.
Nakimuli has also caught the attention of many of our faves, like Erykah Badu, Danielle Brooks, and Eva Marcille.
Yeah, we're inside, but with Nakimuli, we're still going to make it pop!
Established by Draya Michele, Mint Swim is another affordable brand to consider. Minimal yet sexy, these pieces are a must for your next vacation. From cut-out one-pieces to dainty two-pieces, you'll be sure to find your style. Their playful bathing suits keep up with the latest trends and are made for the girl who loves to show off her skin.
Nigerian-American, Buki Ade is changing the game with her pieces to help you "unleash your inner fynebabe". With its Nigerian-influence shining through the designs, Bfyne caters to the eccentric and expressive woman. With a lack of African designers in swimwear, the brand's high visibility encourages women to step into their beauty unapologetically. Bfyne is booked and busy with recent features in Vogue, Glamour, and the Sports Illustrated Swimsuit Issue!
I know we're all planning on our next big vacation once the world opens back up. So while you're waiting, support these black-owned swimwear brands. Imagine yourself in Greece or on a beach in Sierra Leone with a yummy cocktail.
Now imagine yourself in a piece that makes you feel like yourself. 
bathing suits
black-owned
fashion
lifestyle
summer
swimwear
woman-owned