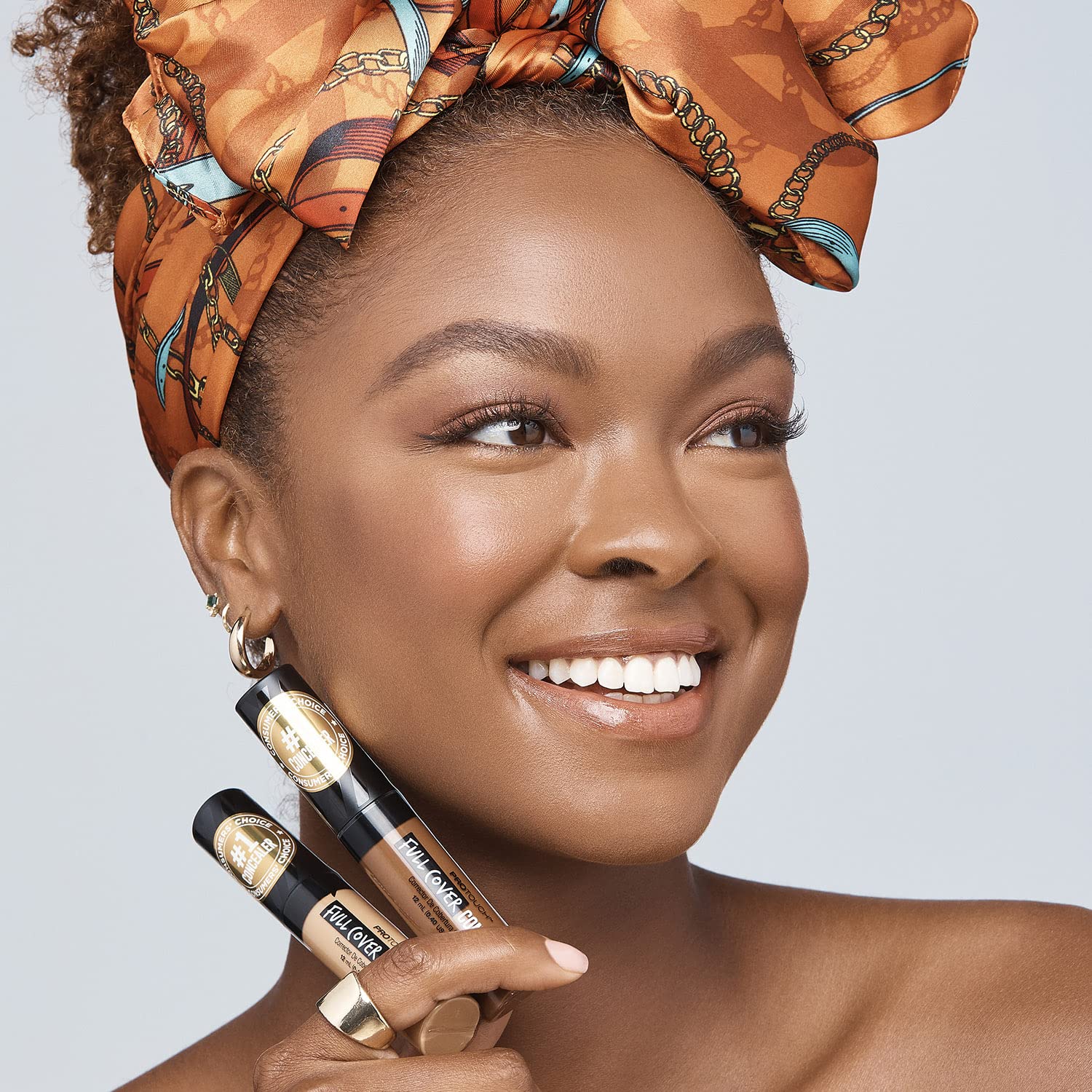 Introducing the NEW Full Cover Concealer from KISS New York Professional
Whether you're a full-beat type of girl or prefer a bare face, concealer is one of the most essential tools in your makeup arsenal. Concealer hides dark circles and blemishes, and it works well as a contour alternative (in the right shade) or eye shadow primer. Concealer is a super versatile product, so it's important to find the right one for your skin type and cosmetic needs.
If you're looking for a new concealer that will do it all, the new Full Cover Concealer from KISS New York Professional is here for you! It offers long-lasting full coverage and is formulated with green tea and chamomile to create a "soft and smooth" texture.
Melanin Moi got a chance to try KISS New York Professional Full Cover Concealer before it hit the shelves. Read on for Leah Ashebir's honest review and pick this concealer up in a beauty store near you.
Review
I received the shades Mocha, Cappuccino, and Warm Honey (pictured above from deep to light) to try. I have a medium-deep skin tone with yellow/olive undertones, so Warm Honey was a little too light for me. So, I used Cappuccino as a brightening concealer shade for under the eyes and forehead and Mocha as a light bronzer. The Cappuccino was a little yellow compared to my other complexion products, but I can definitely see it working well on others. Mocha, however, was the perfect shade to add a little warmth to my base!
Application
The first thing I noticed upon application was how effortless and comfortable the application is. Its creamy texture glides beautifully onto the skin and doesn't dry down too quickly, so there's no need to rush while blending. I especially love this aspect because I have very dry skin that doesn't agree with ultra-mattifying formulas.
The application is so dreamy and you can definitely feel the soothing green tea and chamomile as you're applying. You can apply the product with just a few swipes of the jumbo wand applicator, and a little goes a long way. When I blended my bronzer and highlight together, the pigments mixed very seamlessly with one another. Patchiness is one of my pet peeves, so I was glad to see that flawless finish.
The Look
The finish is very natural and dewy which I love, especially in the summer. The formula falls within the range of medium-to-full coverage, but it's easily buildable to achieve your preferred level of coverage. The formula promises to be long-lasting, but I definitely feel like it needs some setting powder to last because of its creamy, non-drying texture.
I also use my concealers as an eyeshadow primer, so I put the Full Cover concealer to the test. As I mentioned, the beauty of a concealer is in its versatility, so it's important that it can fulfill. Initially, I thought the concealer would not become tacky enough to work as a primer (tackiness helps the pigments cling better), but I was pleasantly surprised! In fact, it provides a very smooth base to apply your shadows and allows the pigments to really pop. Primers aren't a substitute for setting spray, however, so don't forget to add a final spritz at the end!
Final Thoughts
Overall, I think the Full Cover Concealer is a very effective, accessible product. It works well as an eyeshadow base and also provides beautiful natural coverage. I think the creamy formula is especially great for if you have dry skin, but with some translucent powder, more oily skin types would easily be able to enjoy this product as well. I think it's also very suitable for beginners since it's easy to blend and does not dry down too quickly.
Also, the chamomile and green tea in the formulation do more than make the formula soothing. Chamomile is anti-inflammatory, working to calm redness, while the antioxidants in green tea have anti-aging properties. The chamomile and green tea benefit the skin while you rock a flawless beat.
The Full Cover Concealer from KISS New York Professional will be available in August at your local beauty store and at kissnypro.com. It retails for only $4.99 and is available in 13 shades. Keep an eye out for when it hits the stores!