Wash Day Simplified for Those Neglecting A Washday Routine in Quarantine
Wash Day –  it's the most important day for the natural girls but also the most dreaded. Sure, you'll end the day with nurtured, refreshed curls, but the process of getting there isn't easy. When taking care of your body, whether skin or hair, you always need to focus on upkeep for the sake of long-term health and nourishment. So, even if you won't be leaving the house anytime soon, it's still important to keep up the same self-care habits as before! In fact, you may have more time than before to dedicate to self-care.
Here is easy-to-follow wash-day steps along with some helpful tips and recommendations from my 4b/c routine:
Pre-Wash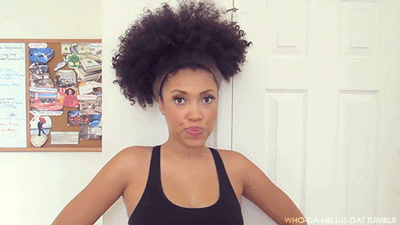 Before washing my hair, I always like to treat the hair with a mask or some long-term leave-in treatment. Growing up, my mom, sister, and I would slather on coconut oil (on the scalp ONLY) to help moisturize the hair and soothe the scalp. I recently purchased the Shea Moisture Strengthen & Restore Treatment Masque. – It's enriched with black castor oil to help nourish the hair as well as apple cider vinegar to help clarify. I find my curls end up POPPIN and defined after using this.
#MelaninMoiTip – Before hopping into the shower, I make sure to detangle my hair using conditioner or one of my pre-poo treatments. This helps you detangle more easily and tear out far less hair.
Wash

After detangling, I love using the Carol's Daughter Almond Milk Sulfate-Free Shampoo. Almond oil does a beautiful job of moisturizing the skin and hair, and it's one of my favorite ingredients! It defines and softens my curls so much. I also really enjoy the Aussie Miracle Moist Shampoo enriched with avocado and jojoba oil, which are also really nourishing. Both of these shampoos thoroughly cleanse without stripping the hair of necessary oils!
Deep Condition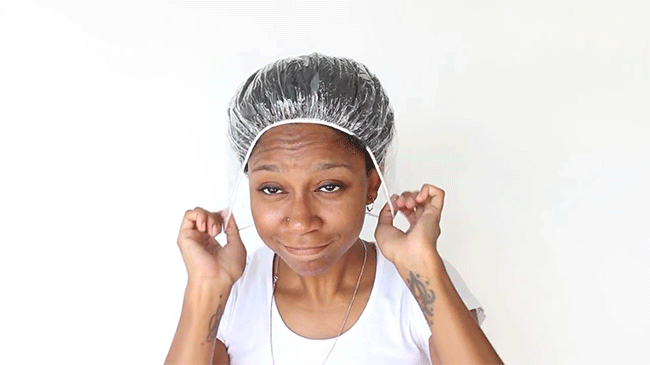 For conditioning, I love the Aussie 3 Minute Miracle Moist Deep Conditioner, enriched with jojoba oil and Australian aloe. I have used this product as both a regular and deep conditioner for years, leaving me with softer, more defined, and healthier curls. I leave it on for 15-30 minutes using a clear heat cap after brushing the product through. I've also heard great things about the tgin Honey Miracle Hair Mask Deep Conditioner and how it leaves hair soft & the curls defined!
As a final step, I've lately been sealing my hair with the Aunt Jackie's Repair My Hair Argan Oil placing it directly onto the scalp and massaging throughout. It just leaves my hair feeling stronger and thicker. I've even been using this oil to help grow and thicken my lashes and brows hairs, with quick results!
#MelaninMoiTip – While letting your hair deep condition, take the time to pamper yourself with a body scrub. You can complete tasks around the house while deep conditioning your hair with heat using this Deep Conditioning Heat Cap.
Post-Wash & Styling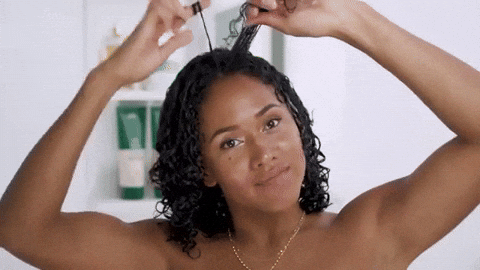 Before starting any type of styling, I always use some leave-in conditioner. I absolutely love Miss Jessie's Leave-in Condish with soybean and aloe. It instantly moisturizes the hair with just a little more than a quarter-size dollop (yes, actually). This sets a great foundation before any styling.
For styling my own hair, I use twists for the bangs and finger curls for the rest. I have recently become obsessed with the Miss Jessie's Honey Curls for styling my curls. It's formulated with sweet almond oil and natural honey to create a thick gel that deeply nourishes and defines each strand. Plus, compared to other gels I've used, you need significantly less product to get the job done. I also really enjoy Miss Jessie's Coily Custard to create soft, bouncy curls. Both of these products are extremely versatile & effective for whatever style you're currently rocking and (my favorite part) make for long-lasting styles!
Finally, before air or heat drying, I seal the curls with pure black castor oil to keep them strong and moisturized. I love using the classic Jamaican Mango & Lime Jamaican Black Castor Oil for this.
#MelaninMoiTip – Before styling the hair, apply a hydrating face mask! I always find my face to be drier after washing my hair and try to give it some extra TLC. Two of my favorites are the Farmacy Honey Potion and the Fresh Rose Face Mask. Make sure to cleanse and tone your face first!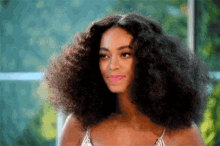 With the right products and methods, wash day can feel like more of fun ritual than a chore. As a natural myself, I'm always excited to see the growth my hair has gone through and try out new styling techniques. In fact, I'm writing this while sitting under a dryer, looking forward to enjoying the fruits of my labor. So, don't forget to take the time to enjoy and care for your crown of curls.
Look out for Ulta's Gorgeous Hair Event until May 30th with hair deals up to 50% off every day, including brands like tgin, CurlSmith, and Pattern by Tracee Ellis Ross.