Black love is beautiful. I just had to throw that out there before I dive into interracial dating in a post-Trump society. Seeing Black people thrive together, create legacies, and express their admiration for one another is inspirational to all of us hopelessly single women. But sometimes you can't help who you fall in love with, regardless of sex, race or ethnicity. How do you navigate a relationship with someone of a different race while protecting and celebrating your Blackness?
Communication is the staple for any successful relationship, but speaking openly and honestly with your spouse of a different race adds a necessary element. Where do they stand on social issues? Do Black Lives Matter to them, or just yours because they're with you? What steps are they taking to fight alongside you? Having these difficult discussions is vital. Maneuvering through love is tough enough, so steering the conversation about race provides another challenge. However, censoring yourself to make your partner comfortable is not an option! Keep posting BLM information, send petitions to your spouse, ask them to join you at a protest; get involved together. 
Don't ignore the red flags! If you're a Black woman engaging in an interracial relationship and your spouse changes the subject every time you try to bring up racism, there might be some issues. Speaking of issues, buckle up for one of my measly dating stories. So I matched with this super attractive White man on Bumble. This man appeared to check every box! Christian, stylish, great job; I mean, I was already daydreaming about wedding venues (don't judge me). A breezy summer night and a few beers later, our first date seemed effortless. That is until he confessed his love and admiration for Trump. It wasn't just that; it was the fact that this man was undoubtedly influenced by Black culture. From the way he dressed to the music he listened to, he was the definition of a culture vulture. Needless to say, that was our first and last date. I didn't ignore that huge red flag and I didn't try to suppress my Blackness for a man. It's not your job to change anyone's mind or educate them. Love me and my culture. Period.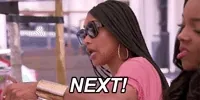 2020 feels like an awakening, and it's time to hold your non- Black spouses and their friends accountable. I've dated my fair share of White men and I've also had to check a few as well. A relationship takes teamwork, so your partner should want to see you win at all costs. Interracial dating has always proven to be demanding, but in this political and social climate it feels like a task. Appreciate and embrace what makes you guys different! As ridiculous as it sounds, I would force my White boyfriends to watch Black sitcoms like Blackish, Insecure, Martin, Sister Sister… etc. Integrate what you both love and introduce them to some of your favorite Black things, or shows in my case. 
Finding love when you're trying to fight the patriarchy, dodge corona, and remain mentally stable is incredibly difficult. Throw an interracial relationship in the mix and you have a recipe made for disaster. Dating outside of my race in a post-Trump society has highlighted why it's essential to discuss racial inequalities. Fighting for what you believe in while opening yourself up to love forces you to step out of your comfort zone. You can be vocal about police brutality and the lack of justice given to Black people, even if you have a White spouse. It's a struggle I've battled with, but I know who I end up with, regardless of race, will be down for the cause. Trust your instincts and be unapologetically you! 
dating
interracial relationship
love
race