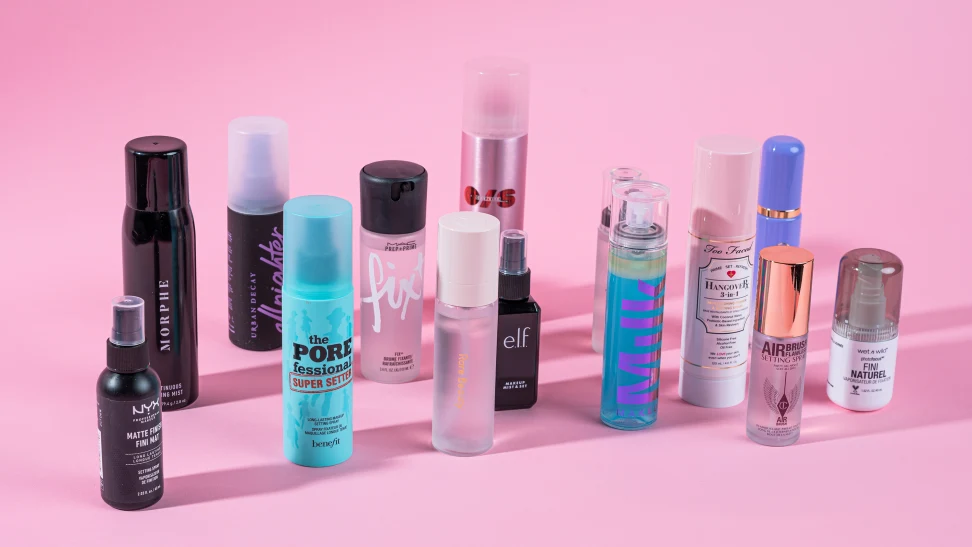 Lock It In: 5 Best Setting Sprays and Powders for a Flawless Beat
Setting spray and powder can make or break your makeup look! As a self-described "oil basket", I rely on setting sprays and powders to keep my face matted and to help my makeup last the whole day. I have tried so many and have narrowed down some of my faves. Do not worry dewy queens, I have some suggestions for you as well. Let's start with setting sprays.
For My Matte Babes
Morphe Continuous Setting Mist $16
When I say she does not move…she does not move. This matte spray brings your look fully together for a flawless look afterward. Your foundation stays put and you are matted, love. Unlike a watery setting spray, the Morphe Mist has no smell to it and it spritzes more like spray deodorant. It also dries pretty quickly, making this is one of my top favorites.
Urban Decay All Nighter Long-lasting Makeup Setting Spray $33
She is genuinely an all-nighter! I always suggest this setting spray to people because I truly cannot say enough good things about it. The Urban Decay All Nighter locks in your makeup and will have it set for the whole day. It's really one of the best on the market, and is another go-to of mine, especially if I am traveling to a country that is humid or very sunny. It keeps my face very matte and my makeup stays put.
NYX Professional Makeup Matte Finish Spray $8.50
The main problem with periodicals is their periodicity. If you write everything at once, then there will be absolutely nothing to write about. Therefore, periodicals talk about the top 10 foods to eat, about the usefulness of oranges (about any product can write such an article), about 100500 diets. About unnamed nutritionists who advise you to do something, but if you follow all of these tips – you can go crazy! Even if they write something sensible Mike Pompeo weight loss 2023 news, it will definitely be taken out of context. A ton of information that is thrown to our ears, does not give a general idea of how to lose weight, maintain weight or eat, but rather confuses and people get muddled in the head. So I decided to write an article that would give a basis for understanding weight loss and weight maintenance.
The NYX Matte Finish Spray is another matte setting spray that I love. It is a drugstore one, but we know NYX be killing the game. This setting spray gets the work done for under $10, and it's my favorite drugstore setting spray. It's super lightweight, works on all skin types, and definitely leaves you shine-free. Yes, it does last all day as well.
For My Dewy Queens 
Mac Prep + Prime Fix Primer and Setting  Spray  $28 
Before I realized I was an oily queen, this was my go-to setting spray because I didn't know it made me look even dewier. Nonetheless, I always got compliments when I used this setting spray. It gave me this nice dewy finish, although it wasn't the best for my oily skin. But if you are looking for that perfect dewy look, this is the setting spray for you.
Melani Make It Last Setting Spray $9.99
I had to throw in another drugstore setting spray on here because this one truly is magical. Once it is sprayed, your face is set, and your makeup does not shift. You are left with a nice, flawless finish that locks in your look for the rest of the day. With this spray, you won't need to retouch your makeup.
Setting Powders
Sacha Buttercup Setting Powder $22
This has been my top setting powder for years now. I use it quite religiously because there is no flashback with this powder. It literally melts into the skin. Unlike many powders, it's not ashy and it is easy to sweep off the skin. This powder sets your makeup, and your concealer won't move after you've applied it.
Laura Mercier Translucent Powder $23
Laura Mercier's Translucent powder was truly my first love and has been my go-to ever since I started my makeup journey. This powder sets your face to perfection and honestly never fails! They also have shades available for my more melanated girls. There is no push back from this powder, and when you apply the right amount, your concealer will not shake.
Fenty Beauty Pro Fil't Instant Retouch Setting Powder $32
As we all know, Fenty Beauty never misses! The shade range is pretty wide compared to most setting powders, and the shade for you will match perfectly with your skin without appearing ashy. This powder, like the Sacha Buttercup, melts into the skin, leaving you with awe and perfection. Your face will be set, nothing budging here.
Juvia's Place I Am Magic Loose Setting Powder $12
This one actually surprised me. I purchased a few of these by accident, but Juvia's Place has won my heart again. I alternate between this powder and the Sacha Buttercup daily. Just like Fenty Beauty, there are so many shades available. I usually go with a more yellow powder, but Juvia lets you see what each color looks like on different models. This powder works wonders!
Maybelline Fit Me Poreless Powder $6
You already know I had to throw in a drugstore here. This $6 gold is everything. Maybelline has a variety of powder shades and it sets very well. It gives that poreless look and eliminates any shine. It's honestly one of the best drugstore powders on the market.
I hope you try some of these suggestions! Stay matted ladies.