Liquid eyeshadows are a modern spin on a classic makeup stable. Though some may find them intimidating, liquid eyeshadows are a simple way to apply eyeshadow that will last all day or night. One of the best parts of any good liquid eyeshadow is that once you apply it, it's staying PUT. Although liquid eyeliner is not a new invention, there are so many new options on the market now that it shouldn't be too hard to find one that you personally love. 
Unfortunately, as with many products, a lot of liquid shadows I've tried either don't fit my definition of nude or are not opaque enough for my skin tone. After some trial an error, I was able to find some any melanated beauty would love. Here are some options on liquid shadows that work for deeper and darker tones: 
Elf Liquid Glitter Eyeshadow ($5)
Elf has been on the come-up lately! The brand is known for being inexpensive and entry-level, but they've been diversifying with skincare products, BB cream, and now these liquid eyeshadows in a beautiful array of colors. After grabbing a few from Target, my first attempt with these shadows was with the shade "Ocean Eyes". To be honest, I was a little disappointed. The royal blue color was quite washed against my skin tone, but I found that it mixed well underneath powder shimmers to add some more sparkle.
#MelaninMoiTip: Try out this shade as an eyeshadow topper for best results.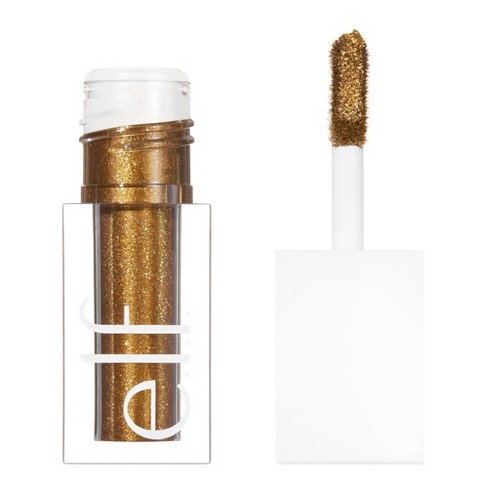 It's understandable that certain pigments are difficult to capture and build formulas with, so I decided to give Elf another try, this time with the shade "Dirty Martini". It's a beautiful golden and somewhat-green shade that can be sheered out with a brush or layered on to be more opaque. When applying this liquid shadow to the lid, be careful about blending it out too early because it does take a while to dry down. Once it the shadow does dry down, it lasts well through the day, even after a bike ride on a hot summer day (yes, I checked!) It would also work as a great eyeshadow topper for extra glitter. Plus, priced at only $5, it's a steal.
Smith + Cult Glitterbaby Metallic-Shift Eyeshadow ($24)
You know that one product that, every time you go to Ulta or Sephora, you always try on but never actually buy? Well, I finally got the courage to purchase these while they were on sale! These are liquid shimmer shadows that go on opaque but, when blended out, the black undertones come out and make the eye deep & smoky.
I first tried out the "Fiery Copper" shadow. I've been swatching these in Ulta forever, but seeing the shadow on my lid was an experience! The color shifts from a deep copper to pink to gold. Here, I made a winged shape with the liquid shadow itself and added some dimension with "Credit" & "Ginger" from the Jackie Aina palette.
#MelaninMoiTip: When creating a unique shadow shape, use eyeliner or black eyelash glue to line the shape first and then fill in the shape with your eyeshadow. This makes the application a lot more straight-forward.
The application was quick and painless – you just need to swipe on the pigment and let it dry. If the shadow dries before you're done with the design, pat the shadow in instead of swiping it. Since the color changes when blended, this tip is super important in keeping the texture and color even. Once completely dried, they stay on very well through the day. For this reason, this shadow may work better for our more experienced beauties.
I also purchased the shade Royal Blue, and it compliments brown eyes so beautifully! 
Marc Jacobs See-quins Glam Glitter Liquid Eyeshadow ($26)
This was such a spur-of-the-moment purchase, but I have no regrets! Unlike the last two shadows, however, I think this option works better purely as an opaque shadow and not sheered out. The current selection is great for dramatic, shimmery nude looks, but I do wish that there were deeper golden & copper shades suited to even deeper skin tones than my own.
I did a look with the shade Smoked Glass 84. This warm bronze has beautiful pink and golden shimmers, so I added Pinker and Ginger into the crease to compliment these. I am obsessed with how the shimmers catch in the light. Plus, the look was crease-free throughout the night.
I was so surprised by how much I loved this formula! It glides on so easily, and the color is very opaque. Plus, I found I didn't have to pat in extra color as with many other liquid shadows. I got the perfect amount of coverage in the first few swipes!
With these shadows, you'll be ready to take on the reopened clubs with modern style and ease. Plus, if these are new to you, take the time while quarantined to practice your application and try on some new colors. 
The Lip Bar Liquid Eyeshadows ($12)
The Lip Bar has some of my favorite lipsticks, so you can imagine my excitement when I saw the release of their new liquid eyeshadows!
Though I didn't get to try these myself (yet), the reviews are saying some great things, such as how they shadows are super pigmented and are formulated for buildable coverage. The wand allows for easy application, perfect for beginners. Plus, they photograph beautifully.
Each of these looks were created with the Urban Decay Eyeshadow Primer Potion, Marc Jacobs Velvet Eyelash Primer, Marc Jacobs Highliner in Blacquer, and Pat McGRATH FetishEyes Mascara.
Have you tried any of these products? Leave a note in the comments about your experience!
beauty
eye
eyeshadow
makeup
new
shadow
trend